Service UPS EXPRESS SAVER
by UPS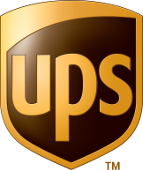 UPS EXPRESS SAVER service is a door to door service by air to send from Spain to anywhere in the world and from anywhere in the world to Spain. Estimated delivery time is 48/96 business day hours to main cities, although this is not guaranteed and can depend on customs. If you are sending to a smaller town or rural area expect a slighlty longer delivery time.
Depending of the pickup address postcode, you may order sameday pickups for this service until a certain time of the day.
If you are an Enviosimple.com registered customer you can enjoy many more useful features. If you aren't a registered customer, click here to register, its free and will only take 2 minutes.
Basic service options and description:
This service does not charge extra for extra kilometers on pickup or delivery. The price includes 2 delivery attempts. This service does NOT deliver on Saturdays.
You may NOT send COD with this service.
Este servicio lleva incluido en el precio un seguro LOTT que indemniza hasta 5,92€/Kilo en caso de siniestro. Puede asegurar su envío a todo riesgo abonando el 3%+IVA del valor a asegurar, siendo 10€+IVA lo mínimo que se cobra por esta opción. En caso de rotura deberá aportar fotos de los daños del articulo y del embalaje. También será necesario justificar el valor reclamado con una factura. Quedan exentos de posible reclamación los artículos restringidos y artículos cuyo embalaje es inadecuado o insuficiente.

The price includes export fees but does NOT include import fees at destination nor taxes generated. Import fees and taxes generated at destination are to be paid by receiver.
Price and advice:
The price shown is TOTAL PRICE, with no small writing. This service is only available to Enviosimple.com customers who book through our website. You can pay by bank card thanks to Banco Sabadell, Paypal or if you are a registered customer, with your prepay account which you can credit by bank card, Paypal or bank transfer.
Please make sure you declare the right weight and measurements as not doing so could incur in delays and penalty fees.
Remember also to warp you parcel in the correct packaging. Parcels not wrapped correctly or shipments that are not packaged shall not be eligible for compensation in the case of damage.

Las Rozas de Madrid (Spain) Spalding (United Kingdom)
Genial, me lleve las llaves de casa de mi madre sin querer a España y necesitaba enviárselas y que le llegaran cuanto antes, entregado de una dia para otro, muy contento.
---
Alpedrete (Spain) Lesa (Italy)
enviosimple sois los mejores!!! fácil de usar, precios inmejorables y muy buena atención al cliente. Gracias por todo!!! muy recomedables