Service UPS STANDARD
by UPS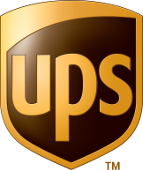 UPS STANDARD service is a door to door road service to send from/to anywhere in Spain including mainland, the Balearic Islands from/to anywhere in Europe. Estimated delivery time is between 2 and 6 business days from pickup, although this is not guaranteed, as it depends on distance from pickup.
This service doesn't offer same day pickup. Pickups must be booked at least one day in advance.
If you are an Enviosimple.com registered customer you can enjoy many more useful features. If you aren't a registered customer, click here to register, its free and will only take 2 minutes.
Basic service options and description:
This service does not charge extra for extra kilometers. The tariff includes 2 delivery attempts. This service does NOT deliver on Saturdays.
You may NOT send COD with this service.
This service includes insurance that compensates up to 5,92€/kilo in the case of loss or damage. You may insure you parcel to cover full value by paying 3%+VAT of the amount to be insured, with a minimum of 10€+VAT charged for this service. In the case of damage you will have to send us photos of the damage and the parcel itself including all wrapping. It will also be necessary to send an invoice to justify the value claimed. Damage cannot be claimed for articles listed as restricted in our terms and conditions and articles insufficiently wrapped.

Price and advice:
The price shown is TOTAL PRICE, with no small writing. This service is only available to Enviosimple.com customers who book through our website. You can pay by bank card thanks to Banco Sabadell, Paypal or if you are a registered customer, with your prepay account which you can credit by bank card, Paypal or bank transfer.
Please make sure you declare the right weight and measurements as not doing so could incur in delays and penalty fees.
Remember also to warp you parcel in the correct packaging. Parcels not wrapped correctly or shipments that are not packaged shall not be eligible for compensation in the case of damage.
Sala Baganza (Italy) Alpedrete (Spain)
gran servicio y muy rápido, teniendo en cuenta las fechas en las que estamos, se agradece!!!
---
Leicester (United Kingdom) Alpedrete (Spain)
perfecto!! muchas gracias enviosimple
---
Cosenza (Italy) Alpedrete (Spain)
todo perfecto. Gracias!!
---
Alpedrete (Spain) Roma (Italy)
todo genial!
---
Sala Baganza (Italy) Alpedrete (Spain)
perfecto! muchas gracias envio simple
---
Rubi (Spain) Ciutadella de Menorca (Spain)
5 estrellas
---
Leicester (United Kingdom) Alpedrete (Spain)
todo genial, muchas gracias! siempre os recomiendo!!
---
Gessate (Italy) Alpedrete (Spain)
perfecto como siempre! enviosimple nunca me ha fallado un envió desde que empece con ellos hace 4 meses!!
---
Alpedrete (Spain) Kraków (Poland)
muy recomendable!! mucho mejor que contratar directamente con las empresas de paqueteria que pasan de ti... Gracias!
---
Barcelona (Spain) Paris 09 (France)
Muy bien el servicio. Hay que mencionar que tardé en recibir la confirmación desde que lo solicité en la página web, y sobretodo que a mí se me dio un horario distinto al que el mensajero tenía para la recogida. Esa imprecisión puede causa mayores molestias.
---
Zaragoza (Spain) Palma (Spain)
Muy buen servicio es el segundo envío que hago y muy bien
---
Zaragoza (Spain) Palma (Spain)
Muy buen servicio en unos días lo volveré a utilizar
---
Kamenné Žehrovice (Czech Republic) Alpedrete (Spain)
excelente
---
Collado Mediano (Spain) Palma (Spain)
Este servicio ha dado muchos problemas por no encontrarse el destinatario en el domicilio en los tres intentos de entrega que se realizaron. Hubo que buscar una dirección de entrega alternativa para evitar mayores inconvenientes. La gestión por parte de envíosimple ha sido impecable y rápida para conseguir el cambio de dirección y la entrega inmediata.
---
Palma (Spain) Drezdenko (Poland)
Esta vez tengo que darles la enhorabuena a Envío simple por este ultimo envío. Así como el penúltimo tuvo una incidencia, éste último ha sido todo a la perfección.
La maleta llego en perfecto estado y en el tiempo correcto. Por ello agradezco a la compañía UPS su servicio y competencia.

Hasta un nuevo envío!
---
Málaga (Spain) London (United Kingdom)
Is good , thanks ups
---
ABBEY village (United Kingdom) Manresa (Spain)
Todo fue perfecto.
---
Sant Antoni de Portmany (Spain) Montilla (Spain)
Parece que todo ha ido bien
---
Porreres (Spain) Barbera del Valles (Spain)
Rápido y perfecto
---
Valladolid (Spain) Vasto (Italy)
Servio rapido y 100% recomendable
---
Leganés (Spain) Goteborg (Sweden)
Se retrasó un día, pero todo excelente recogida puntual y en casa más cómodo imposible. Me gustó mucho la seriedad y la eficacia del servicio, sin duda volveré a utilizar los servicios de Enviosimple.com. Gracias.
---
Logroño (Spain) Sant Antoni de Portmany (Spain)
excelente
---
Barcelona (Spain) London (United Kingdom)
todo correcto. Unicamente mejoraria la informacion de entrega estimada. Seria util para preveer cuando sera entragado el paquete.
---
Santa María del Páramo (Spain) Monreale (Italy)
La caja ha llegado en buen estado pero hice el pedido el dia 22 de diciembre y me ha llegado solo hoy, el 8 de enero, aunque hay de tener en cuenta las vacaciones de esos dias.
Hola,

El día 22 de Diciembre solicitó la recogida para el 30 de Diciembre, fecha en la que fue recogido y se ha entregado en plazo considerando los días festivos y fin de semana por medio.

Gracias por confiar en Envíosimple.com
---
Las Rozas de Madrid (Spain) Šibenik-dio (Croatia)
¡Genial!Ecantada con el servico!
---
Olesa de Montserrat (Spain) Le Cannet Des Maures (France)
Perfecto